El Camino Real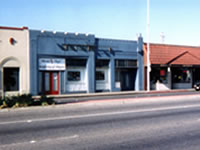 Location: Menlo Park, California
Client: Client: City of Menlo Park
The vision of El Camino Real in Menlo Park is to transform a barren commercial strip into a shaded; pedestrian-friendly Boulevard lined with stately rows of large trees forming a canopy over the roadway.
The combined efforts of Trees for Menlo Inc., City and State agencies and elected city and State Officials have brought to fruitions the long sought vision of a green canopied King's Highway. Major accomplishment included Cal Trans acceptance of planting large trees in narrow medians. Completed this year are two phases a four phase project extending the entire mile long state highway.
Our efforts began in 1999 with a master plan, follow-up with construction drawings, Cal Trans permitting, and construction observation for the first two phases.