Fremont Park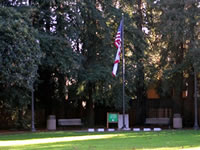 Location: Menlo Park, California
Client: City of Menlo Park
Located in downtown Menlo Park, California this 3/4 acre urban park was the home of World War I's Fremont Camp.
Our effort for Fremont Park included developing a landscape renovation plan which established new pathway paving, new seating, and updating electrical and overall landscape quality for the park.
Original renovation completed in 1995, while current work includes pathway resurfacing, supplemental planting and special event upgrade.