Ritz Carlton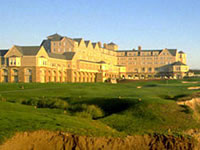 Location: Half Moon Bay, California
Client: Hill/Glazier Architects
Perched a top a prominent coast side bluff, the Ritz Carlton, Half Moon Bay, commands a spectacular 180 degree views of the Pacific Ocean. The main hotel is sited between two championship golf courses and provides a stunning backdrop to the 18th green.
Major design elements for this project included the half mile entry drive, entry courtyard, garden terraces, and tea garden overlooking the ocean. Associated with the hotel are a number of bungalow units, each with garden courtyards that surrounds a tournament tennis facility.
Ciardella Associates worked closely with the architect and the developer during the entire development process. We continue to work on this magnificent coastal property improvements include entry fountain feature, exterior breakout and wedding venue areas, bluff edge food and beverage patio and guest room exterior fire place elements.