Menlo Oaks School - Willow Oaks School Field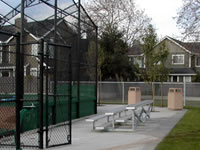 Location: Menlo Park, California
Client: Client: City of Menlo Park
Set to open in January 2003 this redevelopment project consists of a complete renovation of an existing 3.5 acre school field adjacent to Willow Oaks Park.
The project consists of a new complete AYSO soccer field and Little League Field with state of the art backstop, bleachers, dugouts, turf infield, drinking fountains and high nylon netting to protect the residential condominium development. This tournament baseball play field has a complex subsurface drainage system to facilitate good healthy turf.
Our work consisted of field layout, soil and turf selection, and field monitoring, drainage system design and year long maintenance program.