Sports Park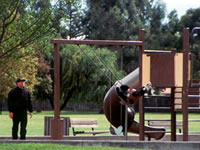 Location: Pleasanton, California
Client: City of Pleasanton
Completed in 1994, Sports Park is an amenity few cities can provide. This 13 acre multi-use sports park features all types of turf sports activities for the entire community.
This park provided soccer, baseball, softball play structures, restroom facilities and open space amenities. The park is accessed by a linear road in which parking bays provide easy and safe access to the fields. A loop path provides spectators and neighbors the ability to jog and stroll while taking in the vast open space this park provides.
The project included facilitating the neighborhood meetings, coordinating with the various sports organizations and the city's staff. Our effort included planning and full landscape design services for this 13 acre sports facility.