Residence Inn, Courtyard Inn, Fairfield Inn, Country Suites and Hampton Inn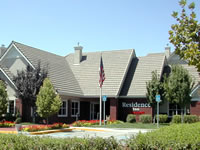 Location: Pennsylvania , California, Texas, and Nevada
Client: Tharaldson Development Company
These business hotels are located adjacent to a shopping area and or off the main highway usually associated with a business center, restaurants or town center.
The hotels feature a simple landscape plan displaying spring and fall color. The simple pallet provides a wonderful foreground to the hotel building.
Our effort included full landscape design services.